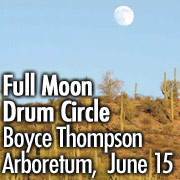 Boyce Thompson Arboretum Arizona State Park
Celebrate the Summer Solstice one week early during our Full Moon Drum Circle in the picnic area, a Wednesday evening.
Drummers are invited to call the organizer Cindy Green at 480-299-4129, or to email Cindy at drumheart (at)yahoo.com for details.
Green says all drums are welcome, and that she even has a few loaners for those who wish to participate – but who don't have their own percussion.
Arboretum daily admission of $7.50 for adults and $3 for ages 5-12 includes the chance to listen to the ancient sound of drums echoing in the towering eucalyptus and sycamore trees which shade the picnic area.
Picnic area has plenty of tables and charcoal grilles, too, for June 15 visitors to enjoy a BBQ dinner accompanied by the ancient, soul-stirring sound of drums. BTA closes at 3:00 pm but gates will reopen at 6:00 pm for the two-hour drum circle time. Drumming begins at 6:30 pm, and will continue by the light of the rising full moon, expected at 7:15 pm, ending at 8:00 pm. when the Arboretum will close.