Gilbert is one of the fastest growing municipalities in the nation. And for good reason! For those seeking a dynamic, community minded environment, Gilbert has it all, delivering a contemporary suburban lifestyle bordered by the urban resources of the adjacent Phoenix.  CNN reported in July of 2009 (potentially the low point of the Arizona housing market) that Gilbert, Arizona was the 4th fastest growing city in the United States.
Gilbert offers excellent freeway access. US-60 runs along the northern border of the Town, connecting to the other cities in the East Valley. The San Tan freeway runs directly through Gilbert from US-60 south, and west to the Interstate 10. Gilbert is only about 15 minutes from Phoenix Sky Harbor International Airport.
Gilbert, Arizona has successfully maintained its small town feel and you will find the sense of community is focused on raising a family, quality education, plentiful leisure activities, and a fantastic business core. It is an excellent reference for businesses and residents alike. Gilbert was ranked #22 as the safest cities in US in 2006.
Gilbert and surrounding communities include parks, equestrian trails, golf courses, tennis courts, fishing, boating. Whatever your choice of lifestyle, Gilbert offers an excellent quality of life!
Town of Gilbert
Population by year
1950
1,833
1960
1,971
1970
5,717
1980
16,920
1990
29,122
2000
109,697
2005
173,989
2006
191,517
Gilbert is centrally located in Arizona and was incorporated on July 6, 1920. In 1902, the Arizona Eastern Railway asked for donations of right of way in order to establish a rail line between Phoenix and Florence. A rail siding was established on property owned by William "Bobby" Gilbert. The siding, and the town that sprung up around it, eventually became known as Gilbert. Gilbert was a prime farming community, fueled by the construction of the Roosevelt Dam and the Eastern and Consolidated Canals in 1911. It remained an agriculture town for many years, and was known as the "Hay Capital of the World" until the late 1920s. Gilbert began to take its current shape during the 1970s when the Town Council approved a strip annexation that encompassed 53 square miles of county land. Although the population was only 5,717 in 1970 the Council realized that Gilbert would eventually grow and develop much like the neighboring communities of Tempe, Mesa, and Chandler. In the last two decades, Gilbert has grown at a pace unparalleled by most communities in the United States, increasing in population from 29,122 in 1990 to over 191,000 in 2006.
I moved to Arizona in November of 1974 and have lived in the Gilbert/Mesa area ever since. I built my first home in Gilbert in 1987. I raised my three children in Gilbert and found this a very exciting place for all walks of life.
The Gilbert School District was my main motivation to move from Mesa where my parents lived to Gilbert. Our first home was built by a local contractor, ALC Builders. I currently still live in Gilbert, Arizona and find this a fantastic place to raise your family, own your own business and be centrally located to so many wonderful restaurants, shopping malls, parks, and recreational activities.
This economic crisis has created a gold mine of real estate in Arizona with Gilbert Short Sales and Queen Creek Foreclosures. Investors everywhere are jumping at the opportunity to purchase these homes in a devalued state and hold on to them for the short period that economists predict will soon be over.
While maintaining the house can still eventually prove to be fruitful when the economy picks back up, remodeling for rent and house flipping can also prove to be a worthy investment.  If you're considering an investment in a short sale in Gilbert or foreclosure in Gilbert then consider all the possibilities of what you can do with the home.  If you have the expendable income and desire to invest, now is the time to jump on the real estate market for Arizona foreclosures and short sales.
Nearest cities:
Mesa, AZ (4.7 miles ), Chandler, AZ (7.7 miles ), Queen Creek, AZ (10.9 miles ), Salt River, AZ (11.5 miles ), Sun Lakes, AZ (11.6 miles ), Tempe, AZ (11.8 miles ), Santan, AZ (13.6 miles ), Guadalupe, AZ (13.8 miles ).
The largest non-government employers in the Town of Gilbert and surrounding area:
References: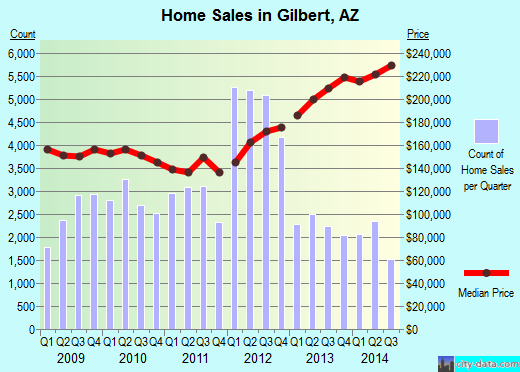 See all Real Estate in city of Gilbert.
(all data current as of 10/22/2017)
Listing information deemed reliable but not guaranteed. Read full disclaimer.